---
The Lowspec project
The Lowspec DIY spectroscope was designed by Paul Gerlach and placed on Thingiverse.com. The project is made around the idea to create a slit spectroscope on a budget. Commercially available slit spectroscopes generally cost in acces of € 3.000,-, ranging up to € 6.000,-. By building your own spectroscope from of the shelf optical parts and a 3D printed body and parts, slit spectroscopy becomes accesible to more amateurs with an interest in spectroscopy. In total for my building project I spend about € 800,- (in 2022). All the optical parts and the micrometer cost about € 600,-. The ASA plastic fibre to print cost € 30,- and I spent about € 50,- on the needed screws, bolts, nuts, springs and so one. My brother allready had a 3D printer, and the neccesary experience using it (Thanks little Bro! 😉 ).
A
where spent on optical parts and an micrometer. about
I have made the 3.0 version of the Lowspec spectroscope. The object files which need to be printed can be found here, along with an elaborate building manual manual:
https://www.thingiverse.com/thing:2455390
For anyone interested in building one themselfs I have collected the learning points of my building proces here.
The lowspec 3.0 design
The lowspec spectroscope is build as a slit spectroscope. In this design all the commercially available optical parts are placed in a housing which needs to be 3D printed.
The slit plate
The big difference from the staranalyzer grating I have been using earlier for spectroscopy is the slit plate. The function of the slit is to select a thin slice of light from the optical path and let it through to the working part of the spectroscope. The advantage of this slit is that the resolution of a spectrum of a star is no longer dependent on seeing (or bad focus). In principle a thinner slit will produce higher spectral resolution. Of course at the cost of less light with a thinner slit. The neat thing of the Lowspec 3.0 design is that it incoporates a slit disk with 12 slit widths; from 10 micron up to 200 microns. In practice I use the 10 and 20 micron slits, depending on the magnitude of the target star.
An other big convenience of a slit spectroscope over a slitless one such as the star analyzer is that you can take spectra of extende objects, such as nebulae, galaxies, the day or night time sky, or any lamp you have in and around the house 😉
The slit plate can be bought from the French company Jeulin. Take care though that you get the single slit disk, as the also sell the same disk with 12 double slits.
https://jeulin.com/jeulin_en/204139.html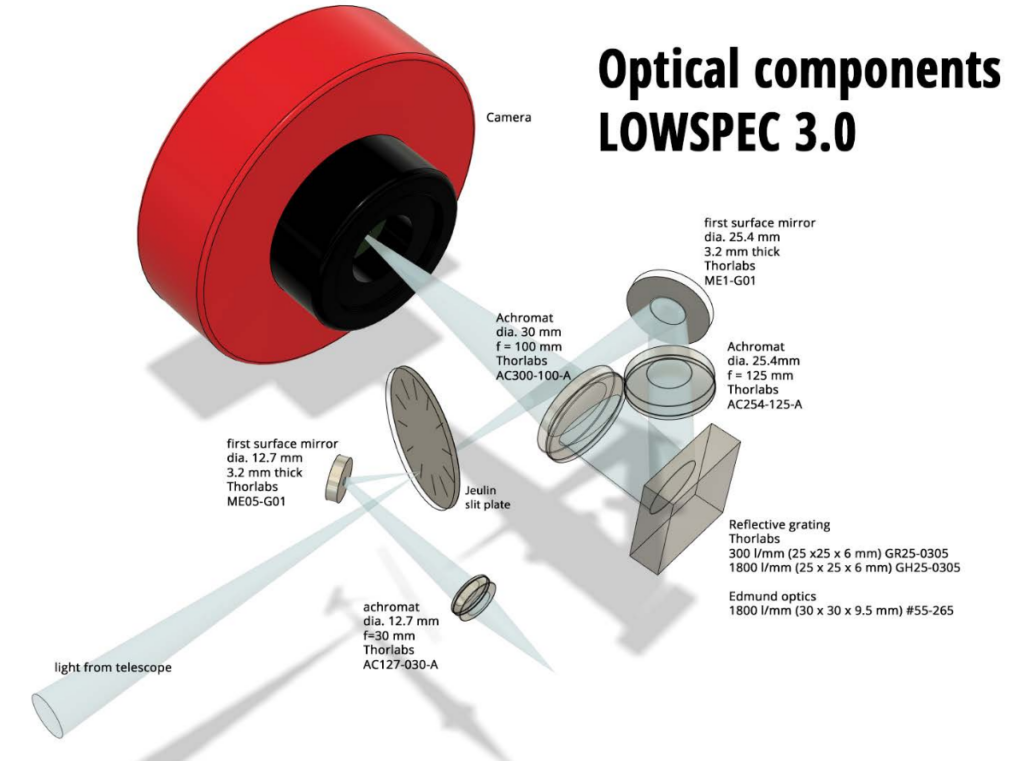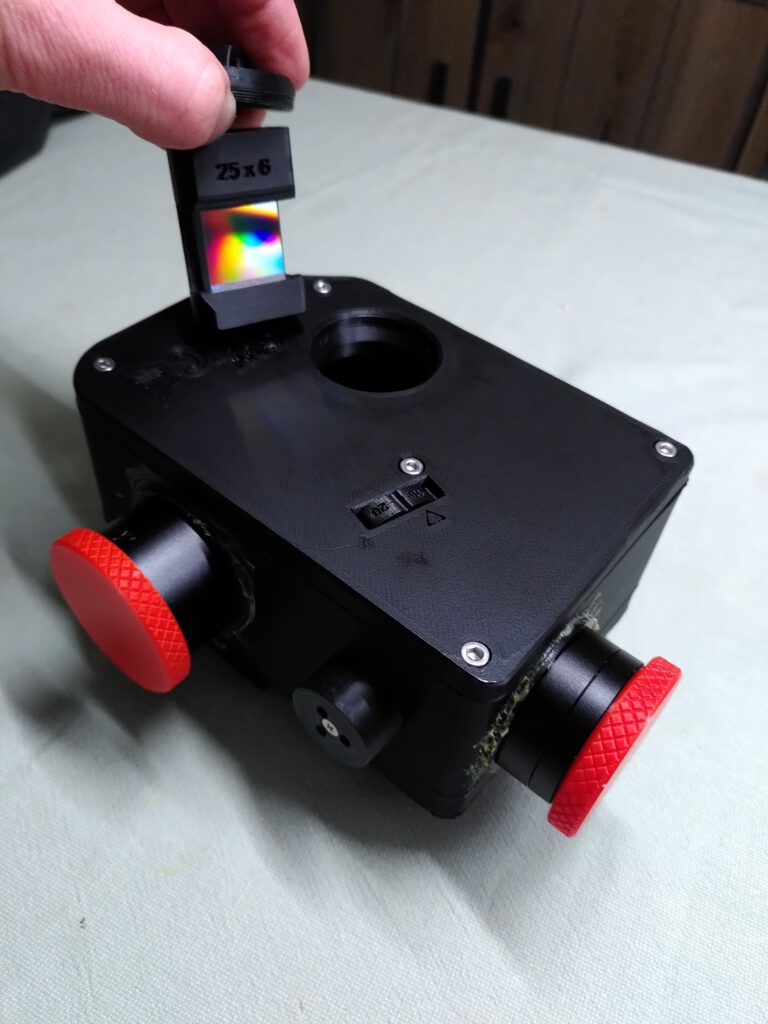 Lowspec 3.0 – building a DIY spectroscope